Presentation of Adultfriendfinder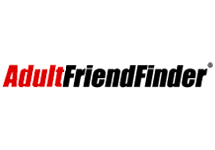 Join one of the biggest casual dating sites in the world to live out your most erotic desires. AdultFriendFinder boasts a pool of 80 million potential sexual partners across the world. Following on from WebPersonals and FriendFinder.com, Andrew Conru created AdultFriendFinder in 1996. While the majority of its traffic comes from the United States (more than 50%), its community spans across the United Kingdom, Canada and many other countries.
The site's many features help users to find a sexual partner or partners to fulfil their own sexual desires. AdultFriendFinder opens doors to all sorts of fantasies. Couples, polygamists, sex friends, monogamists, and anyone in between can indulge their fantasies to their hearts' content. Put simply, this platform is paradise for couples or single people looking to spice up their sex life.
Audiences
Type of dating : Swinger dating
Age group : 25-45 y.o
Active members : 80,000,000
% Men / Women : 65%/35%
Features
Free Signup for all
Profile Suggestions
Search per criteria
Mobile compatibility
Our grade after testing Adultfriendfinder.com
One of the leading sites for people looking for sex, Adult Friend Finder is a key player in the segment. Founded in 1996, today it boasts a vast community of several dozen million members, making it easy to meet people to live out your wildest fantasies.
Adultfriendfinder is a benchmark in the world of casual dating sites. It boasts a carefully designed interface, guaranteed security and is fairly user friendly, even if it is a bit less simple than others. Adult Friend Finder is a reliable and comfortable site, which has everything you need to live out your fantasies.
Pros
A very large and dynamic community
A reliable site with reinforced security and responsive customer service
Lots of features that are not available on other sites
Cons
Paid subscription required to really get the most out of the site
An interface that is not as simple as that of other sites
Main features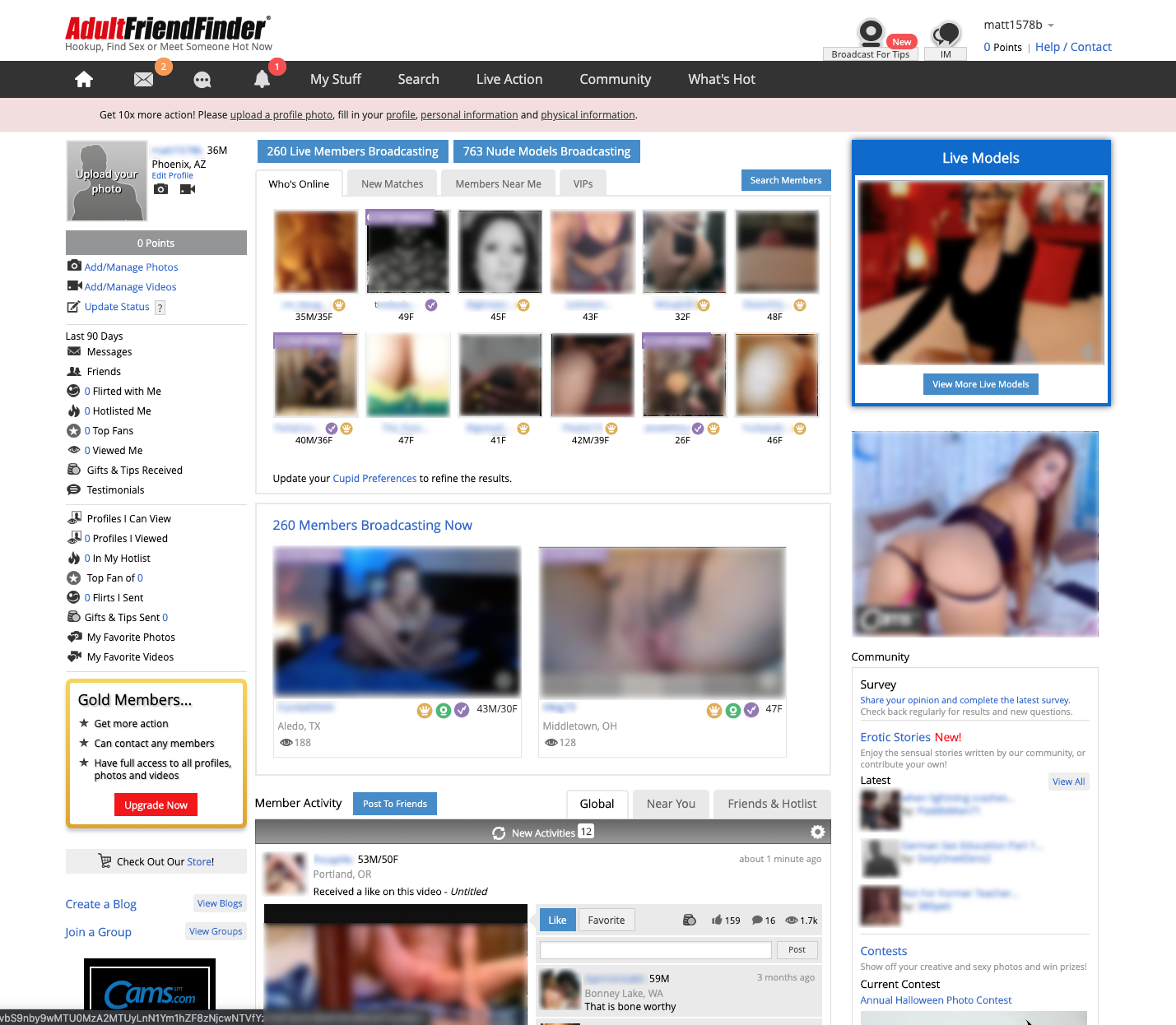 This sex platform offers a plethora of ways to interact with sexual partners. The communication tools available are as varied as the members of the site. You can take part in chat rooms, interact with groups or even view magazines. For those looking for live action, chat streams and classic messaging features, which are standard features of dating sites, are also available.
Your wild sexual adventure doesn't stop there. What makes AdultFriendFinder a unique platform is the possibility of sharing experiences. Members can keep a sex journal to publish as a vlog. The "Sex Stories" page is designed to titillate other members and stories of real or fictive sexual encounters can be added by anyone.
Eager to learn more skills? The Sex Academy section, which offers educational videos on sex, is a goldmine for those keen to try out new things. In this taboo-free zone, anything goes. Here, you will find videos on anal and oral sex and even tips on hooking up online. This feature is only available to paying subscribers and additional charges may be incurred.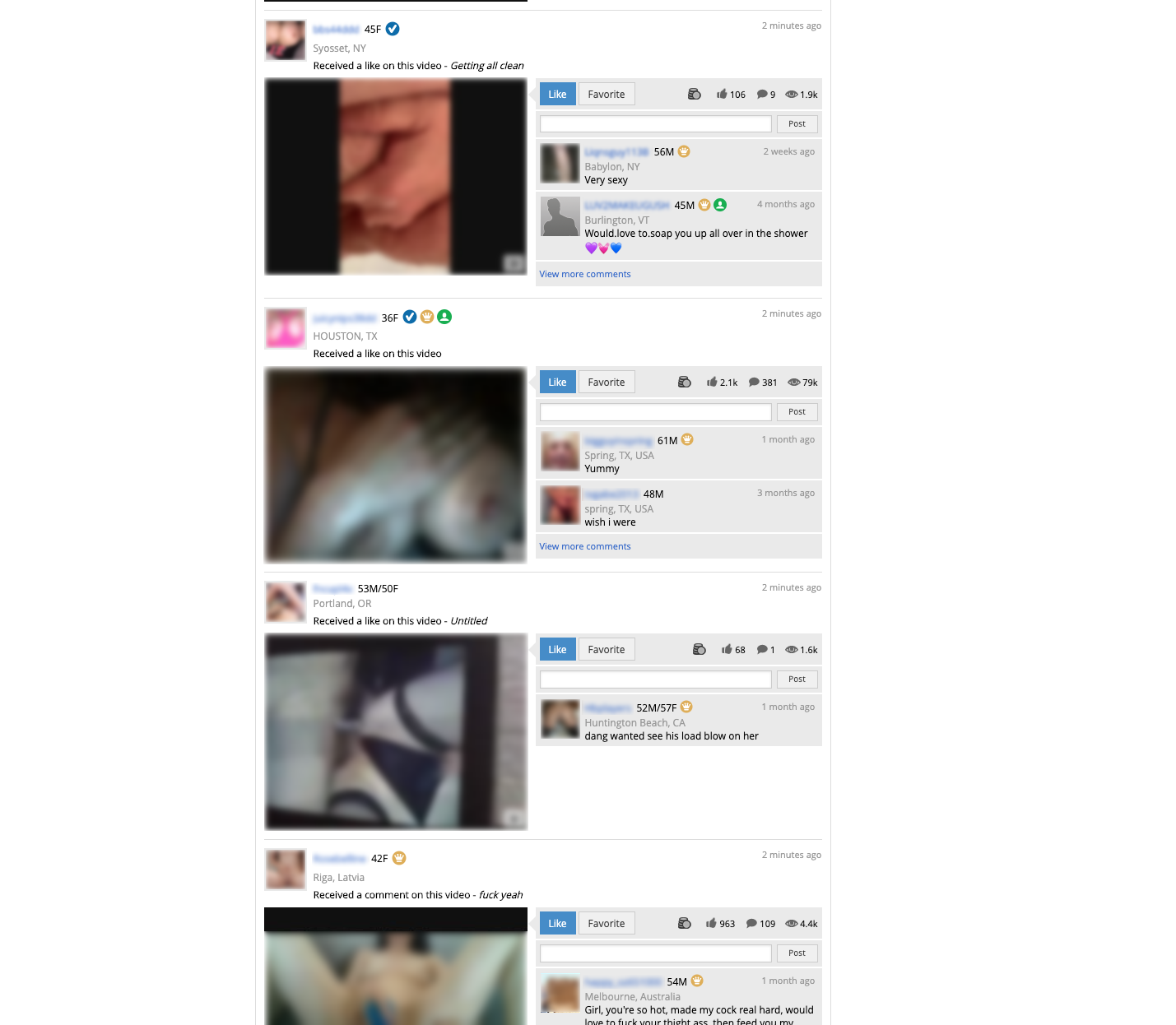 If you are still not satisfied, the "competition" section might be for you. This very popular feature is perfect for those who want to put themselves out there. The contests are set and run by AdultFriendFinder and are regularly updated. As you can see from the image below, the current theme is "play with your food". Participants share their best photo on the set theme for a chance to win a year's Gold membership.
Subscription prices and plans
Membership and some of the site's features are free. However, to really get the most out of the site, a premium subscription is essential. This allows you to:
See complete profiles

Send gifts

Add friends

Send messages

Read messagest

Use the chat feature

Watch members live

Payment can be made by bankcard, bank transfer or mobile phone.
Using the site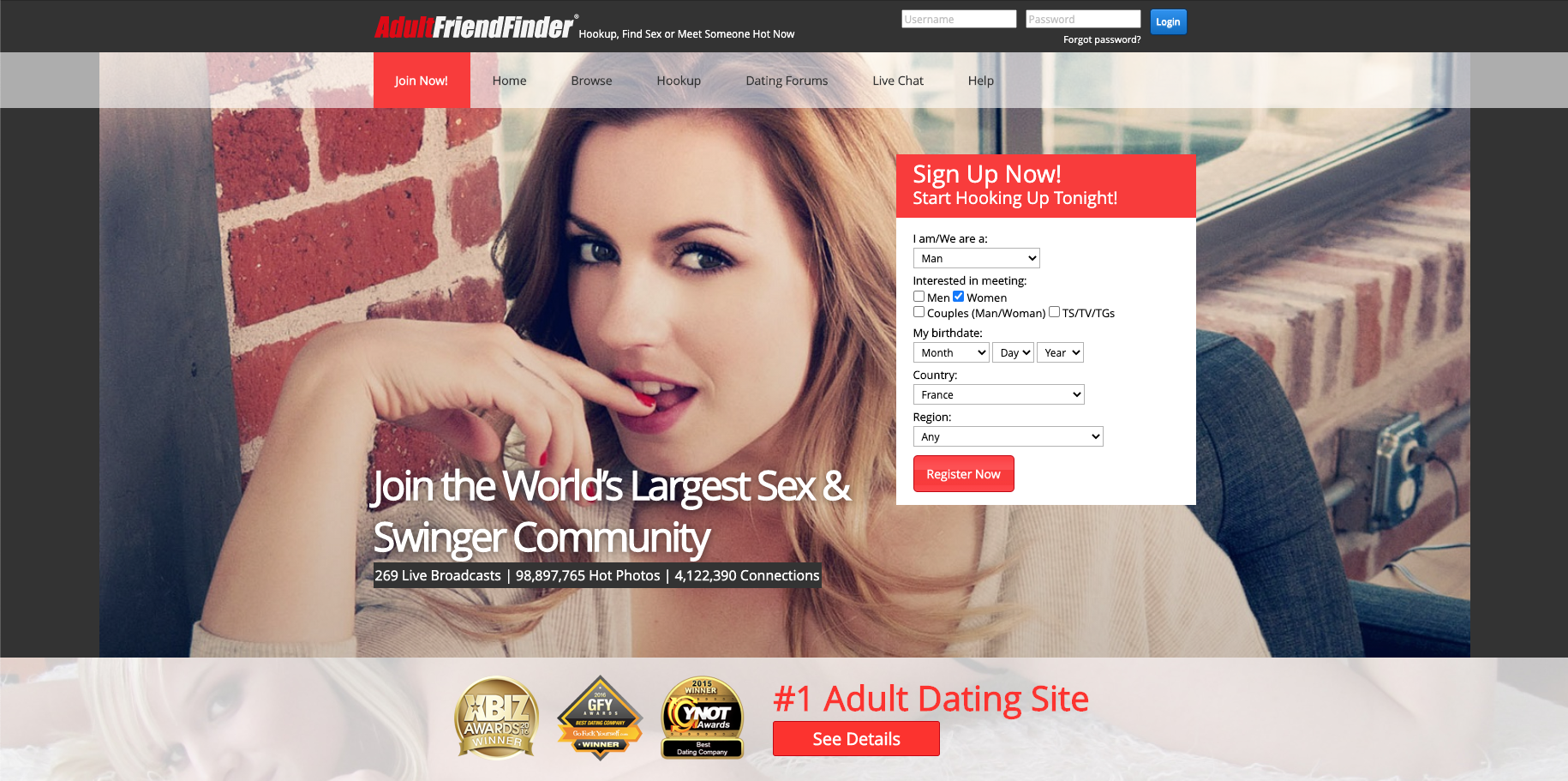 It takes less than five minutes to join AdultFriendFinder. Signing up is free and fast, but there is an automatic verification process for profiles. The first step is a series of questions regarding your sexual orientation and preferences. You can also set the sexual orientation of partners that you want to meet. You are then asked to select a unique username which will be used for all your activity on the site. Your real name will never be revealed unless you have chosen it as your username. Once the registration process is complete, you will automatically be granted access to the home page, where active users are ready and waiting.
Generally speaking, if you are just looking for some fun, the profile quality on AdultFriendFinder is up to the job. Profiles contain everything you need to know about the sexual preferences and fantasies of your potential partners. However, if you want more personal information on someone you like, you won't find what you are looking for on their profile page.
The AdultFriendFinder application can be downloaded free of charge on the App Store and Google Play. A minimalist design makes it easy to use, browse and scroll through pages.
Customer Service and Security
Following a general data breach a few years ago, AdultFriendFinder now prides itself on ensuring the confidentiality and security of its users. The site has made every effort to secure its platform. While zero risk is impossible to achieve, it is safe to say another data breach like the one in 2016 is not on the cards any time soon. All transactions are encrypted using the best techniques.
The site also offers a FAQ section, providing quick answers to members' questions. If you can't find the answer you are looking for, you can also contact customer service by message using a form available on the website.
Why join Adultfriendfinder.com
AdultFriendFinder offers its members a whole host of opportunities to satisfy their wildest fantasies. The site only caters for casual meet-ups, with few encounters leading to serious relationships. That's perfect if you're looking for a one night stand or fling, but you're not likely to find "the one" on this site.